1966 427 Cobra Replica


- Kit purchased from Cobra International -Midland, Ontario
- 4"x 2" Tube Frame, Coil over springs F/R, Tubular upper & lower control arms
- Engine - 1984 Ford 302 High Output, TRW Forged Pistons, 8.5:1 comp ratio, Balanced
with ARP fasteners, Motorsport A312 Camshaft, Approx 375 hp
- Power Adder: B&M Powercharger 140 Roots Type Supercharger Making 8 psi
- Transmission - Tremec TR3550 5 speed manual
- Carburator - Holley 750 Double Pumper
- Rear End - Ford 9" With 11" Disc Brakes
- Tires - P295/50R15 Rear & P215/70R15 Front
- Front brakes 11" disc with Granada calipers
- Steering rack from 1980 Pinto, manual
- MSD 6AL Ignition system, with Boost timing master
- Centech wiring harness
- Stainless Steel dash with Autometer Gauges.


I started my Cobra replica in October 1998. I purchased a 'rolling chassis' from a
little known manufacturer, Cobra International out of Midland, Ontario. It consisted
of a 4"x2" tube frame with a live axle and mustang II front end geometry and a
fiberglass body. That's it! The remainder of the parts I either manufactered or
sourced anywhere I could. I did pruchase a few parts from Bob Wheaton of
Cobra Motorports and others from CanAm Motorcars. Thanks to both.
So what is the least expensive way to get your new
Cobra's from Ontario to Nova Scotia?
You stack 'em!
(The second Cobra was purchased by a co-worker)
Many thanks to my good friends Brian & Rod for
co-piloting on the long trip!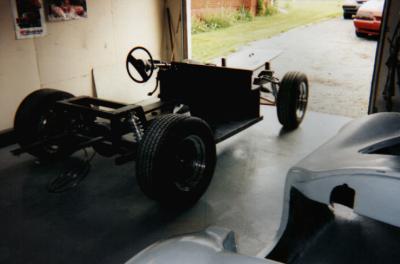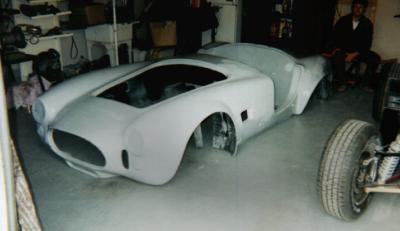 Above shows the car shortly after getting it home.
I've already installed the pedal assembly and steering
column as well as the fuel line on the frame.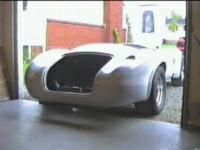 Here are a few pictures just after I installed the power train & headlights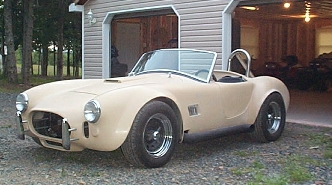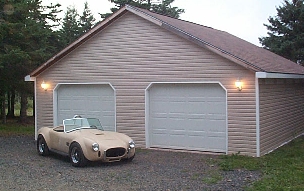 We're getting pretty close now.
See that stainless steel dash? I destroyed five
2" hole saws for those six guages.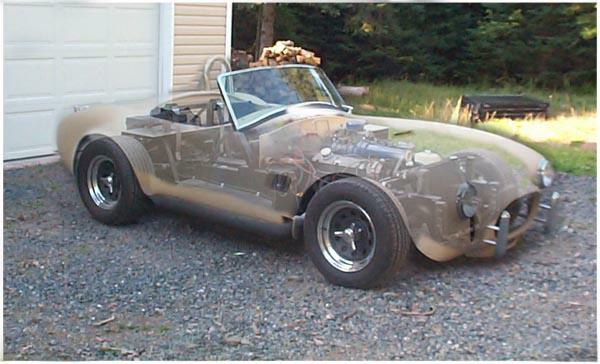 This was the last time I had the body off. So I decided
to make this pic. Pretty cool eh?
Here' the Final Result!
Thanks for stopping by my site...

Hits to date...




Check out some other great Cobra Sites....