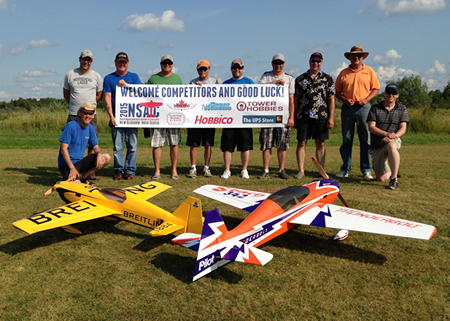 2015 Northumberland Scale Aerobatic Challenge Results
Overall, there were 10 pilots flying in this year's Northumberland Scale Aerobatic Challenge.  In no particular order they were:  Ben Lann (NRCM), Brandon Smith, Chris Garrett, Dayle Smith (NRCM), Fred Marshall (NRCM), Greg Carlen, Kelly Doary, Mike Notley (NRCM), Paul Sinnis (NRCM), and Sandy MacInnis.  This year's contest attracted competitors from all over Nova Scotia and as far away as New Brunswick.
Dayle Smith won the Basic class edging out local newcomer Fred Marshall by only 387.5 points.  It was great to watch both of these competitors fly.  Fred in particular had some ups and downs this competition season but never gave up and put in a great bit of flying during the event.
Greg Carlen finished ahead of Sandy MacInnis in the Sportsman class.  Greg has shown great improvement over the past two seasons and is really showing promise for the future.  Sandy finally had some good luck with his troublesome engine and completed the entire competition dead stick free.
There were 6 pilots in the Intermediate class vying for first place.  Kelly Doary came out on top again in the standings, but the rest weren't far behind.  Paul Sinnis came in second, Ben Lann third, Mike Notley fourth, Brandon Smith fifth, and Chris Garrett sixth.  Competition in the Intermediate class is getting tighter every event and looks like it will be very competitive for years to come.
A big thank you should go out to our Sponsors: MAAC, Great Hobbies, Maritime Hobbies, Tower Hobbies, Hobbico, and the UPS Store.  We would also like to thank Chris Marshall and Emma Sinnis for barbequing and scoring duties throughout the day.
Thanks everyone again for supporting the event and we hope to see you again next year!  (Photo Credit: Chris Marshall)