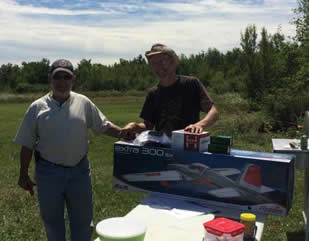 2016 NRCM Funfly Well Attended Despite Touch and Go Forecast
This year's funfly attracted 19 pilots and quite a few spectators throughout the day.  The event's weather forecast was touch and go for most of the week but luckily the weather turned out to be very nice on the day.  Winds were calm and the sun was out all day.  Lots of flying was had by all in attendance. 
This year's fun fly featured a Flyzone Extra 300sx raffle prize package sponsored in part by Hobbico, Pulse, and RC Wings & Wheels.  The raffle was very successful and we sold every ticket with the winner Ian Fraser buying the bulk of them.  Thank you to all that supported the club and purchased tickets!
Another big thank you should go out to Chris Marshall for barbequing and providing some very tasty cookies at the event!  She did an excellent job of feeding the masses.  (Photo Credit: Ben Lann)